Easy Mini Cheesecakes and Keto iced coffee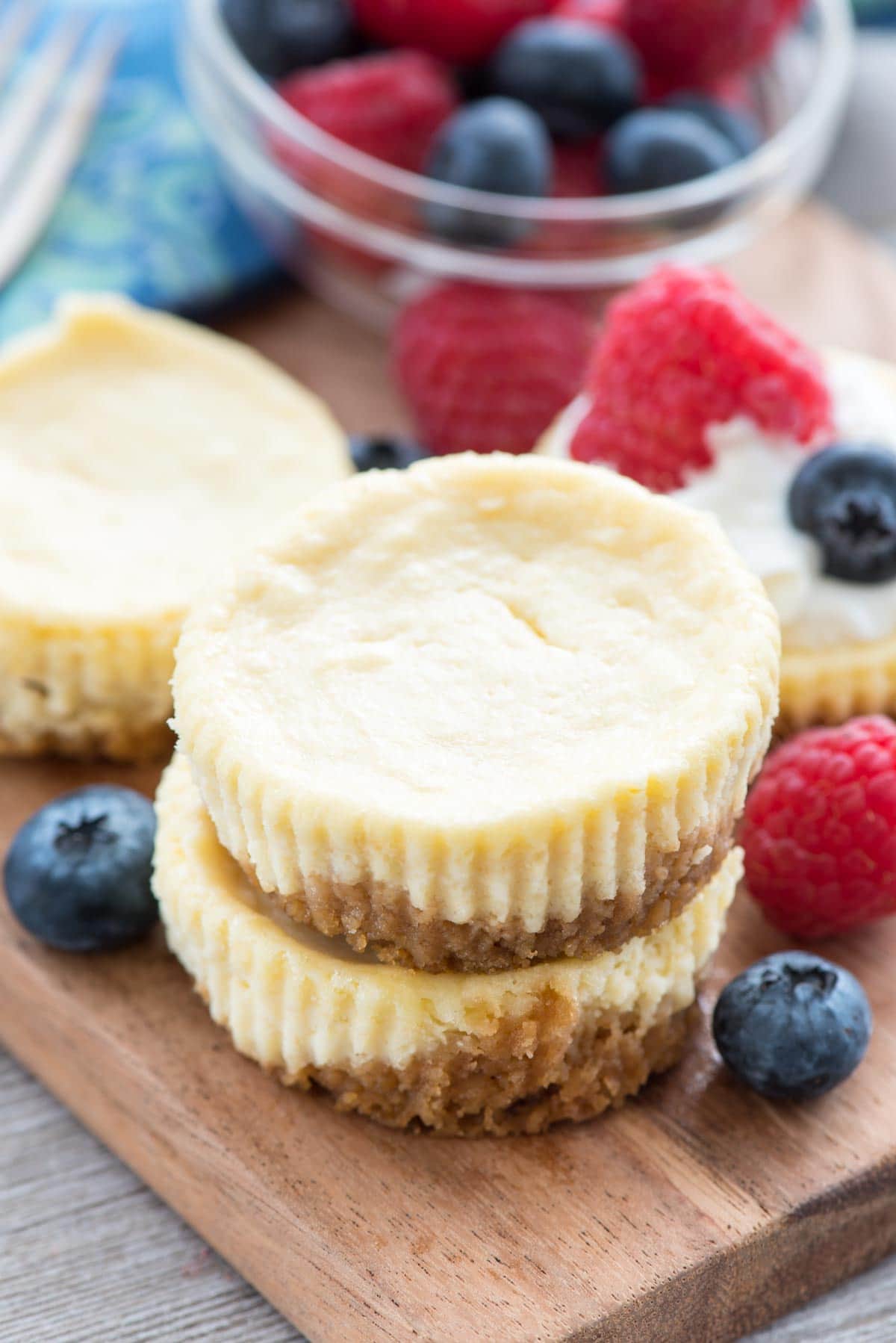 Easy Mini Cheesecake Recipe
Easy Mini Cheesecake Recipe – this simple cheesecake recipe makes 12 perfect mini cheesecakes and can be made so many ways! Lemon, Oreo, S'mores, Fruit, Peanut Butter Cup – any cheesecake you want in no time at all.4.64 from 30 votes
Prep Time20 minutes Cook Time20 minutes Chill time4 hours Total Time4 hours 40 minutesYield12 cheesecakes Serving Size1 plain cheesecake
INGREDIENTS
BASIC GRAHAM CRUST:
1 1/4 cups graham cracker crumbs
3 tablespoons brown sugar
5 tablespoons unsalted butter melted
*See Note for additional crust ideas*
BASIC CHEESECAKE FILLING:
8 ounces Challenge Cream Cheese room temperature
1 large egg room temperature
1/4 cup granulated sugar
1/4 cup sour cream room temperature
1 teaspoon vanilla extract
*See Note for additional filling and topping ideas*
 
 
INSTRUCTIONS
Preheat oven to 350°F. Line a 12-cup muffin pan with cupcake liners.
Make the graham cracker crust: Stir together graham cracker crumbs, sugar, and melted butter. Press about 2-2 1/2 tablespoons of the mixture into the bottom of each muffin liner and press to compact.
Beat room temperature cream cheese with a hand mixer until fluffy. Beat in room temperature sour cream. Beat in egg, sugar, and vanilla extract. (Room temperature ingredients are a must to avoid lumps!)
Evenly divide (about 2-2 1/2 tablespoons each) cheesecake among crusts. Bake for 18-20 minutes, until they just begin to brown. Cool completely and refrigerate for at least 3 hours or overnight.
Serve plain or topped with whipped cream and berries. See notes for additional serving suggestions.
RECIPE NOTES
Crust: instead of a graham cracker crust you can use 12 Oreos (any flavor). Just place them (whole) into each cupcake liner and they will form the crust.
Peanut Butter Cup Cheesecakes: use an Oreo cookie for the crust. Chop up 6 regular sized peanut butter cups and sprinkle them into the batter in step 3. Alternately, use 12 Reese's Minis and place one on top of each Oreo before dividing filling. Top cooled cheesecakes with chocolate sauce and more peanut butter cups.
Oreo Cheesecakes: use an Oreo cookie for the crust. Chop 4 additional Oreos finely and stir into the cheesecake batter before step 4. Continue as directed.
Lemon Cheesecakes: use either a graham cracker crust or a Golden Oreo cookie for the crust. Optional: add 1 teaspoon lemon zest to the batter in step 3. Top cooled cheesecakes with lemon curd and fruit.
NUTRITION INFORMATION
Serving: 1plain cheesecake | Calories: 190kcal | Carbohydrates: 17g | Protein: 2g | Fat: 13g | Saturated Fat: 8g | Cholesterol: 50mg | Sodium: 130mg | Sugar: 11g
Nutritional information not guaranteed to be accurate
Keto iced coffee
This keto iced coffee is a tasty treat to keep you cool on a hot summer's day and is so incredibly easy to make. Indulge in this refreshing iced coffee, and feel free to add vanilla or cinnamon for an extra touch of luxury.
Ingredients
1 cup coffee
ice cubes
¼ cup heavy whipping cream
vanilla extract (optional)
Instructions
Brew the coffee twice as strong as you'd normally make it. Allow it to cool completely.
Fill a large glass with ice cubes. Pour in the coffee and then cream. Serve immediately.
Tip!
If you have liquid vanilla or cinnamon extract, or any other sugar-free flavoring at home, feel free to add a few drops.
You can even make this iced coffee in a blender. Mix at the highest speed until it becomes creamy and foamy.
Ketogenic low carb
Per serving Net carbs: 3 % (2 g)Fiber: 0 g Fat: 93 % (21 g)Protein: 4 % (2 g) kcal: 203
If anyone wants more Delicious Keto and Low Carb Recipe so Join My New Groups Here you can get best and new Recipes>>> Keto Best Recipes